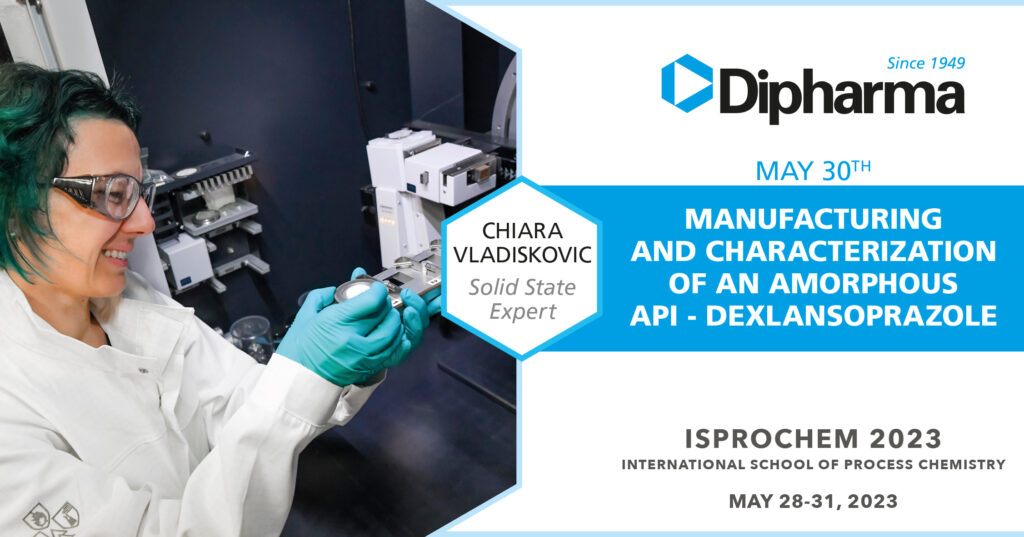 The International School of Process Chemistry – ISPROCHEM 2023 is going to start and Dipharma will be there!
From May 28th to 31st the 6th edition of ISPROCHEM will take place in Gargnano (BS, Italy)  and our colleague Chiara Vladiskovic, Solid State Expert, will participate as a speaker on Tuesday May 30th, presenting the case study: "Manufacturing and Characterization of an Amorphous API – Dexlansoprazole"
ISPROCHEM has the aim to provide basic training to chemists who are interested in starting a career as process chemists in the Pharmaceutical Industry. Furthermore, the school serves as an excellent forum for discussion among experienced professionals on topics of growing interest.
In this framework, with her lecture, Chiara Vladiskovic will illustrate the complexities and pitfalls in the manufacturing, characterization and understanding of an amorphous form of an API. When designing a scalable process, many factors need to be taken into account, including the characteristics of the desired product, the applicable technological solutions and the final applications of the manufactured material.
To learn more about our expertise and capabilities, please contact us at https://www.dipharma.com/contacts/
For more information:
Paola Clerici
Communication Manager
Dipharma Francis S.r.l.
E-mail: paola.clerici@dipharma.com
Teams: paola.clerici@dipharma.com