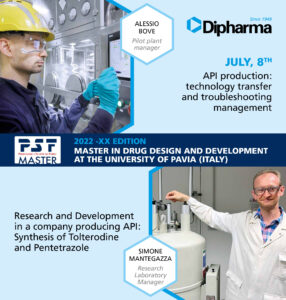 Dipharma strongly believes in the development of industry & university partnerships and we are delighted to inform that our colleague Alessio Bove, Pilot Plant Manager, on July 8th, will hold a lesson entitled "API production: technology transfer and troubleshooting management"  to the students of the Master in Drug Design and Development at the University of Pavia (Italy).
At the same Master, last March, our colleague Simone Mantegazza, Research Laboratory Manager, presented the lesson "Research and Development in a company producing API: Synthesis of Tolterodine and Pentetrazole".
We wish all the students all the best for a brilliant career!
For more information:
Paola Clerici
Communication Manager
Dipharma Francis S.r.l.
E-mail: paola.clerici@dipharma.com
Teams: paola.clerici@dipharma.com